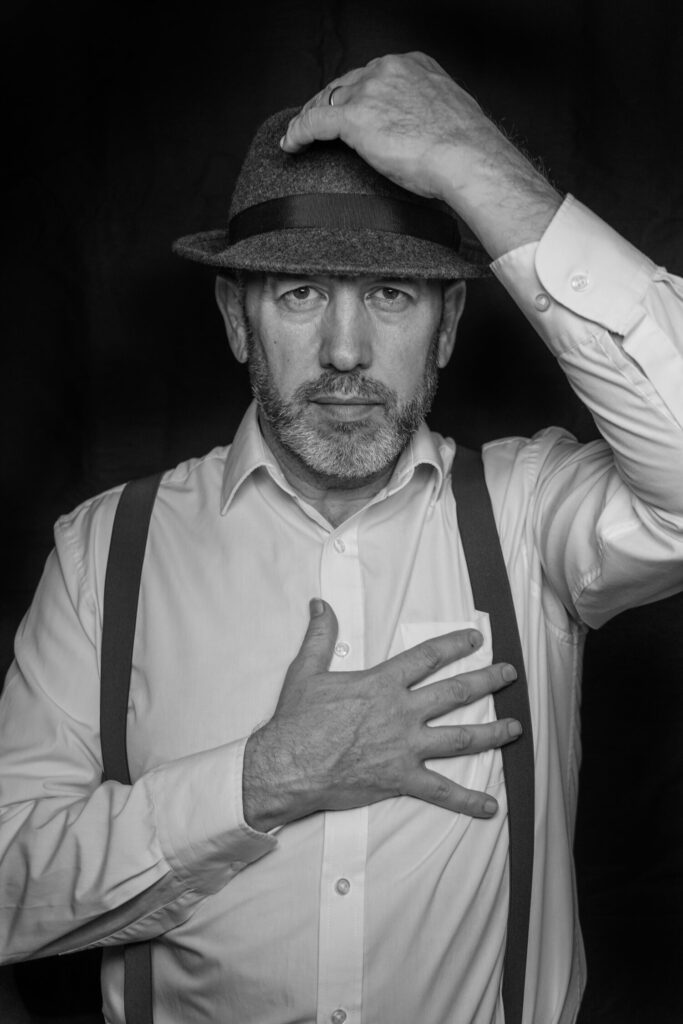 Gerry Tully is a native of County Meath, Ireland. A natural, self-taught musician who has been performing since his early teens. Tully was drawn to music through his father who's  career stretched from the Irish show band era in the sixties right into the late nineties. At sixteen Tully was smuggled into a Christy Moore in concert. The event cast Tully as a performer and sealed a constant in his musical journey. Throughout the 90s Tully played in bands learning a range of styles from rock and roll to folk and from ballads and traditional Irish to Americana and swing jazz. 
His first venture into recording happened in his early 20s with his EP Grist for the Mill. He got to work playing the music circuit around County Meath and beyond. In 2002 Tully toured Ireland, England and Germany with the traditional group Cósir including an appearance Seamus Begley's award winning program Gantrí on TG4.
He went on to tour in Europe and America for 3 years as guitarist and vocalist with Derek Warfield one of the founding members of the renowned band The Wolfe Tones. Tully left the band to pursue his own musical creativeness, producing his debut album of in 2008, called Leaves Float Down. The album of thirteen self-penned songs featured on musicreview.com as their Album of the Month. The album was well received and enjoyed a generous airplay in Ireland and abroad. That year Tully performed alongside Don Baker, Ronnie Drew, and Finbar Furey on part of their "Working Class Heroes" Irish tour.
Tully featured at the Folk en Pagaille Festival in France 2012 and returned the following year to headline the event. In 2014 he opened the first ever Irish festival weekend dedicated to the music of Leonard Cohen in Liberty Hall, Dublin. To mark the occasion he launched his Maverick EP which included Cohen's Hallelujah. After the passing of The Dubliners Barney McKenna, Gerry appeared alongside an array of well known artists such as Andy Irvine, Donal Lunny, John Sheehan, and Mick O'Brien along with members of Barney's family at a commemorative concert in celebration of the life of the legendary banjo player. At the same time he completed a BA degree in English Literature and Philosophy. In 2017 he released 'Things Heard' an album of folk songs from Ireland, Scotland, and England, including three originals, Rise Up, The Fracking Song, and Little Gadfly. They deliver a message of timeless relevance, cultural upheaval, personal loss, and social exclusion.

2018 Tully had gathered a band and played one sell-out show, 'Love, Sex and Death' the songs of Leonard Cohen. A series of show were scheduled for the following year, however, the Covid-19 pandemic shut down the world and left the music business in disarray. During those bleak months he focused his energy then on a weekly facebook-live request show which garnered huge support in Ireland and abroad. Tully was also invited by the regional radio station, LMFM to perform his original works on their facebook page. In 2020 Sofft Productions and Meath Arts Office, began an initiative re-invigorate the music industry selecting artists to record and highlight. Tully performed two original works which were later broadcast on Hotpress' YouTube channel. Watch the video HERE
In 2020 Tully took a full-time position as vocalist and guitarist with The Legend of Luke Kelly band having previously appeared as their guest at the 35th Luke Kelly anniversary concert in Vicar Street. He is currently touring with the band and compiling material for his own gigs. Tully's own gigs are a blend of originals and carefully chosen songs from a broad swipe of the folk genre.
As a performer, Tully is unique, funny and evocative. His own songs are mesmerising, political, thoughtful and haunting. He also has a compelling way with listeners, He's funny and has has a razor sharp wit coupled with a unmistakable passion for his craft. Tully uses guitars in various tunings and Seeger style long-neck banjo to accompany his rich, versatile voice. 
---